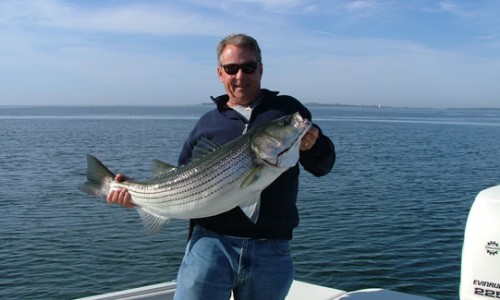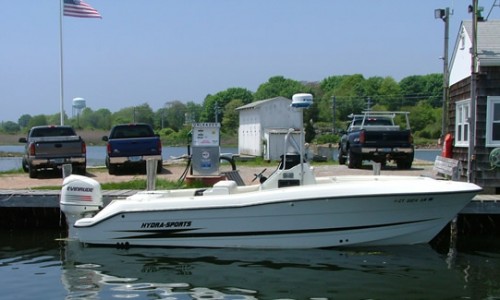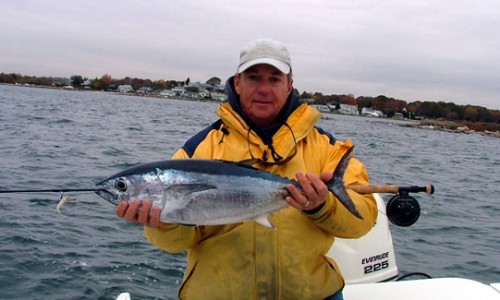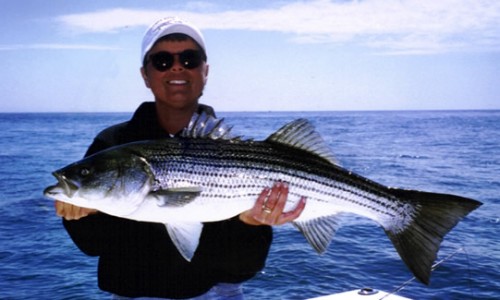 SALTWATER FLY FISHING & LIGHT TACKLE
Bass – Bluefish – Bonito – False Albacore
Your saltwater flyfishing guide:
Capt. Ralph "Sandy" Noyes
Watch Hill , RI – Long Island Sound – Montauk, NY
Saltwater Fly Fishing is our life. We love to share our experience and knowledge of this great sport with our customers. You can find no better saltwaterfly fishing charter in Southeastern New England. Whether you want to fish for stripers, bluefish, albacore or bonito, we can take you to where the action is. Take a look at some of the beautiful fish our customers have caught while on our charter, then give us a call.
Our dock is located on the eastern side of Stonington, Connecticut. Our charter fishing boat usually fishes the reefs and rips from Watch Hill RI. to the eastern end of Fishers Island, NY. This whole area is less than ten minutes from the dock. Depending on the time of year and the species of fish that we are after, we will go as far East as Pt. Judith, RI. Fishing about 20 miles of some of the best beaches on the east coast. We also at times will go out to Block Island which is about 12 miles off of the coast. In the fall we will cross the sound to Montauk or go further west to Orient Point, Long Island. A little closer to home there is always the Race, the Sluiceway, and Gardiners Island. We also have the Conn. Coastline from the mouth of the Conn. River east to Stonington. You just cannot beat this area for some great saltwater fly fishing.
We cover just about any type of structure that you could imagine. From the flats to coves, rivers, rips and boulder strewn areas where you know there just has to be a fish holding there.
The first stripers arrive in the beginning of May and by the last week of the month there are enough of them to make fishing worthwhile. The bluefish show in good numbers in July. Bonito could show anytime after mid month and if they follow the rules will peak in mid August. About the time September begins they will be replaced by false albacore. The albies will stay until the beginning of November. October sees schools of bass and blues blitzing on schools of bait prior to their migration south.
We hope that you will join us on a saltwater fly fishing trip soon.
Capt. Sandy Noyes
19 Turnpike Park
Norwich , Conn. 06360
(860) 886-9212